With the development of economy and society and the improvement of people's quality of life, the power supply service begins to change from "using electricity" to "using electricity well", especially the urban power grid, which has the characteristics of heavy guarantee task and high reliability of operation. To achieve the goal of "strong quality network", the quality supervision of distribution network materials is a prerequisite. As the "artery" and "nerve" of the national economy, the real-time monitoring of cable operation becomes particularly important.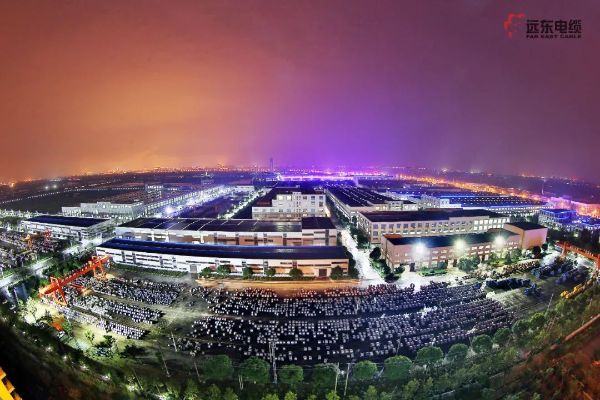 Night View of Far East Cable Factory District
As a leader in cable industry, Far East Cable, a subsidiary of Far East Smart Energy Co., LTD. (Abbreviation: Far East Holdings; Stock Code: 600869), actively develop production-teaching-research combination, successfully created a smart chip cable through long-term development and testing, and realized the full life cycle management of the cable, which produce good economic efficiency and the management efficiency, and make an important contribution in promoting the electrical material supply chain management from physical to digital management transformation.
Respond to Market Demand, and Focus on Research and Development of New Products
In recent years, with the intelligent development of power network system, in addition to the intelligent supporting infrastructure equipment, the intelligent cable, and the visualization of the running state has become more and more important. Therefore, the cable supply chain data anti-counterfeiting authentication and safety traceability become the inevitable requirements of power Internet of Things and modern intelligent energy system construction.
Under this premise, Far East Cable actively responds to the market demand, gives full play to the advantages of profound technical accumulation and innovative talent gathering, through painstaking research and rigorous testing, and finally successfully install "intelligent brain" -- intelligent chip cable.
Intelligent chip cable can realize real-time monitoring of cable temperature and current-carrying capacity, and can also realize the storage and call of cable manufacturing, factory inspection and installation and laying information. The above information is transmitted through wireless devices and can be consulted and monitored in real time on customers' mobile phones (APPS) by cloud computing. Not only that, the system also has the characteristics of low cost, safety and reliability, which is for the power system energy transmission and information allocation management, and also provides the basic conditions for the construction of energy Internet.
Recently, the intelligent chip cable supplied by Far East Cable for a power distribution project in Jiangsu province has been finished and successfully delivered, marking that the first batch of intelligent chip cable products of Far East Cable has successfully rolled off the production line and applied to the relevant project market. This is another important milestone in product innovation and technology research and development of Far East cable after new products such as hanging laying cable and high voltage torsion-resistant flexible cable.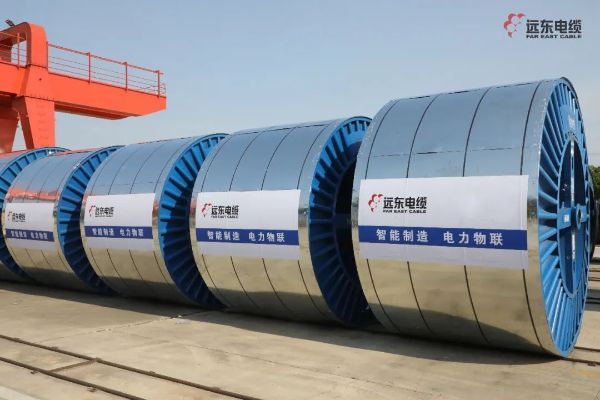 Intelligent Chip Cable
We will Pursue Innovation and Lay a Solid Foundation for High-quality Development
Innovation is the foundation for the survival and development of enterprises. Only continuous innovation can bring a steady stream of development power, create value for customers and society, win the market and get opportunities.
 With the help of a complete R & D and innovation system, Far East Cable is committed to the technical research and process development of new materials, new technologies and new processes, and speeds up the research and development of sophisticated products, including hanging cable, high-voltage torsion-resistant flexible cable, new energy wind power cable, liquid-cooled high-power charging cable, intelligent chip cable and so on. By constantly solving the problem of technical "bottleneck", Far East Cable has exported its competitive "fist products" to the world.
From the Three Gorges Power transmission Project, to the Baihetan Hydropower Station, to the Shanghai World Financial Center, as well as China Zun, Hong Kong-Zhuhai-Macao Bridges, Beijing Daxing International Airport, Beijing Universal Studios, Far East Cable products have been widely used in national major projects, smart power grid, energy and electric power, green building, intelligent manufacturing and intelligent transportation and other fields, providing comprehensive intelligent cable products and system solutions, winning praise from customers, fully demonstrating the comprehensive strength of Far East.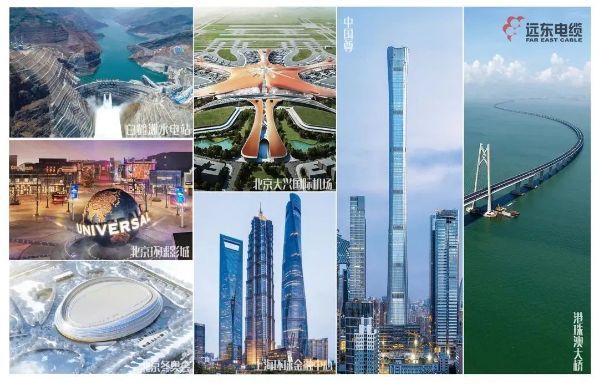 Exhibition of Major Projects involving Far East Cable (Part)
At present, Far East has postdoctoral research stations, academician expert workstations, state-level enterprise technology centers, state-level recognized laboratories and other scientific research bases, with a total of more than 110 products reaching international leading or advanced level. It has won more than 40 national and provincial science and technology awards, such as China Patent Award, second prize of National Science and Technology Progress Award, China Patent Excellence Award and other national and provincial science and technology awards. It has been awarded the first TÜV certification certificate of liquid-cooled high-power charging cable issued by Rhine TÜV, laying a foundation for high-quality development of the enterprise.
Under the general trend of national strategies such as "carbon peak" and "carbon neutral" and the development of intelligence, digitalization and information technology, Far East Cable will give full play to the independent innovation and industry leading advantage, continue to strengthen innovation, better serve the wisdom city, green buildings, intelligent manufacturing, emerging industries such as clean energy, economic and promote high-quality economic and social development.